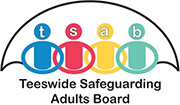 The Teeswide Safeguarding Adults Board (TSAB) is the statutory body that sets the strategic direction for safeguarding adults.
The Board is responsible for protecting and promoting an adult's right to live an independent life, in safety, free from abuse and neglect in the Boroughs of Hartlepool, Middlesbrough, Redcar & Cleveland and Stockton-On-Tees.
The Board is made up of six statutory partners:
Cleveland Police
Hartlepool Borough Council
Middlesbrough Borough Council
Redcar & Cleveland Borough Council
Stockton-on-Tees Borough Council
North East and North Cumbria Integrated Care Board
There are a number of other member organisations across the statutory, voluntary and community sectors involved in safeguarding adults across Tees. The Board also has strong links with local strategic partners including the Tees Safeguarding Children Partnerships.
The statutory requirements of the TSAB are to:
Produce an Annual Report
Produce a Strategic Plan
Conduct Safeguarding Adults Reviews
For further information about the Board, its structure and partners agencies, please see the Members Induction Pack.
TSAB is a strategic Board, so please note we do not deal with individual safeguarding adult cases, queries or complaints.
Our Ways to Report Abuse page provides contact details for each of the Local Authority areas who will take the lead on managing concerns.