Hate Crime
Crimes committed against someone because of their disability, gender-identity, race, religion or belief, or sexual orientation are hate crimes and should be reported to the police.
Hate crimes can include:
threatening behaviour
assault
robbery
damage to property
inciting others to commit hate crimes
harassment.
Report Hate Crime on-line
https://www.gov.uk/report-hate-crime
Call 999 if you're reporting a crime that's in progress or if someone is in immediate danger. If the crime isn't an emergency, call 101.
---
Mate Crime 
Mate crimes happen when people with learning disabilities are befriended by someone who uses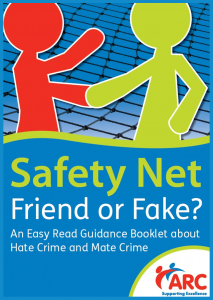 the relationship to exploit or abuse them.
For example, they might take over a person's flat and treat it as their flat, or they might 'borrow' money or things which they never give back.
http://arcuk.org.uk/safetynet/files/2012/08/Friend-or-Fake-Booklet.pdf
General Safety Tips Here are some tips to follow if you are out and about:
Stay alert – awareness is your best defence
Leave venues with friends wherever possible
Try to stay in well-lit areas
Be confident – even if you don't feel it
Travel as if you know where you are going
Take the most direct route and try to stay within areas where other people are around
Trust your instincts – if you think something is wrong then act on it
Have your keys available when you reach your home or car
Keep money for taxis – the expense is worth it
Carry a personal alarm and use it when necessary
http://report-it.org.uk/personal_safety_tips
---